---
Shipping and delivery available
Select options at checkout
The JBL PartyBox 1000 is a powerful party speaker with JBL sound quality and exciting full panel light show. Just plug in your Mic or Guitar and take the stage or stream your playlist via Bluetooth or from a USB stick. The LED lit DJ and Party Band bring concert to your party! Connect two PartyBox speakers wirelessly with the TWS feature or wired from one RCA output to another RCA input. Let's get the party started!
The box that rocks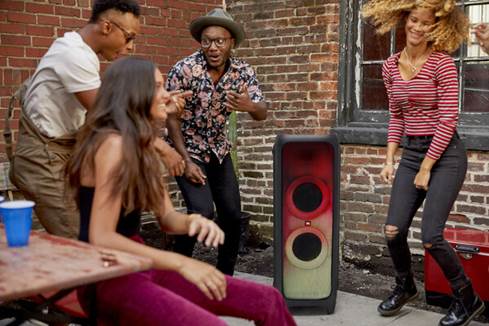 It's a good thing JBL visited us with their PartyBox 1000 powered speaker. Actually seeing it and hearing it in person, I understood just how remarkable this speaker is. The massive, 76-pound PartyBox 1000 kicked out the sound with forceful clarity.
And its light show was first-rate. Blocks of color pulsed and rippled down the front panel of the speaker in time with the music.
Many music options
What can you use a PartyBox 1000 for? A Bluetooth speaker, portable PA system, karaoke machine — even a guitar amplifier. Stream music wirelessly from your smartphone or tablet via Bluetooth. A stereo minijack input lets you make a quick connection from a portable device. A stereo RCA input lets you connect a CD player or a turntable with built-in phono preamp. There's also a USB port for plugging in a thumb drive loaded with music files.
Big JBL sound
The PartyBox 1000 features one high-frequency compression driver, two 7" midrange drivers and a 12" subwoofer with a rear-firing port to reinforce the bass. There's also selectable Bass Boost if you want to make your tunes thump even more. And it's all driven by a built-in amplifier rated at 1,100 watts maximum output.
DJ control pad
One of the coolest features is the built-in DJ control pad. A set of 16 color-coded pads on the top panel can control the built-in light show, so you can set the mood. You can also use the pads to trigger built-in sound effects from preset drum, keyboard, piano, and "DJ" sound banks. Plus you can store an additional 16 completely customizable sound samples, accessed through your thumb drive. You can even capture sound loops and mix them together on the fly.
Air Gesture wristband
The speaker comes with a JBL Air Gesture wristband. It connects to your PartyBox 1000 via Bluetooth, and helps you step up your DJ game. When you select colors for the speaker, the wristband displays the same colors. Move your wrist one way, and the colors change. Move it another, and they change again. Shake your wrist or clap to trigger programmed sound effects.
Add your voice to the mix
Use the PartyBox 1000 as your portable PA. There are two 1/4" input jacks — one for a microphone, the other for a guitar. Individual gain knobs for each input let you set their levels independently.
Or you can play along to music already playing through the speaker. A Voice Cancellation button removes vocals from the music you're playing, letting you be the star. No need for special mixes. You've got instant karaoke!
Strength in numbers
If 1,100 watts maximum power isn't enough, you can pair two PartyBox 1000s for two-channel stereo. They can be paired wirelessly via Bluetooth, or with RCA cables. In fact, every PartyBox speaker has its own built-in amp and a line output, so you can daisy-chain PartyBox 1000, PartyBox 300, and PartyBox 200 speakers via RCA cables.
Surprisingly portable for such a large speaker
Weighing in at over 76 pounds, this is a lot of speaker to haul around. Fortunately, the PartyBox has an integrated carry handle and built-in wheels so you can transport it without a roadie. Just wheel it in, plug it in, and it's ready to rock when you are.
Product highlights:
one high-frequency compression driver, two 7" midrange drivers, and one 12" down-firing subwoofer
frequency response: 30-20,000 Hz
maximum system power: 1,100 watts
built-in Bluetooth 4.2
Inputs:
RCA stereo input for audio components
stereo minijack for portable devices
USB port for flash drives
microphone and guitar inputs with independent volume controls
Top-mounted DJ pad and controls:
color-coded control panel
drums, keyboard, piano, and DJ sound effects
customizable effects and sound sample keys
selectable colors for PartyBox and Air Gesture wristband
record and playback music loops
bass boost
voice cancel function for karaoke
Other features:
pair two JBL PartyBox 1000 speakers for two-channel stereo

pair via Bluetooth or connect with RCA stereo cables (not included)

Air Gesture wristband — trigger sound effects and light patterns by wrist motion
USB charging for your mobile phone or tablet
integrated carry handle and built-in wheels for easy transport
AC power cord
15-5/8"W x 41-3/8"H x 15-7/16"D
weight: 76.5 lbs.
warranty: 1 year
General Specifications
Power Inputs 100-240V AC
Output power (W) 1100W Max!
Input Terminals RCA L/R, USB port, 3.5mm Aux-in, Mic/Guitar with volume control
Output Terminals RCA L/R
Output power (W) 1100W
Audio Specifications
Frequency Response 30Hz-20kHz (-6dB)
Bass Boost Yes
TWS (True Wireless Stereo) connecting up to 2 party speakers using Bluetooth technology Yes
Dimensions
Product dimensions (wxdxh) W397 x D390 x H1050
Bare Product Weight 34.7 kg
Packaging dimensions (wxdxh) 1158 x 468 x 472
Product weight with packaging 39.1 kg
Transducers 1x compression driver, 2x7" Mid-Range, 1x12" Down Firing Woofer
Dimensions (cm) W39.7 x D39 x H105
Dimensions (in) W15.6 x D15.3 x H43.3
Weight (kgs) 34.7
Control and Connection Specifications
Wireless Connectivity Bluetooth Technology
Air Gesture Wristband using BLE technology Yes
Features
3.5 mm audio cable Input Yes
Auto-power off Yes
Bluetooth Yes
Built-in Microphone No
Karaoke function Yes
Lightshow Yes
Payment & Security
Your payment information is processed securely. We do not store credit card details nor have access to your credit card information.