A Master Class in
Design and Engineering
The all-new XR subwoofers are a master class in design and engineering refinement that challenges what is possible from a compact, sealed subwoofer design. Our goal was to push the boundaries of performance while never losing sight of aesthetics by wrapping everything up into a suitable size that won't ever feel out of place.
Like the award-winning Founder Series of loudspeakers, our approach was simple. When designing XR, every part and sub-component was scrutinized and designed to be optimal for its specific purpose and for each piece to complement the others, resulting in a product that is truly greater than the sum of its parts.

Performance was paramount when developing XR. But at Paradigm, we truly believe in our mantra of "Art Embracing Science," so XR's luxurious cabinet is acoustically inert and visually stunning to look at.

These Made in Canada subwoofers truly redefine what you should expect from a subwoofer in this category: Brains, Beauty and Brawn.
XR's cabinet embodies our "Art Embracing Science" philosophy. It's the perfect complement to any system and blends perfectly with our award-winning Founder series of loudspeakers, even available in the same gorgeous Walnut, Black Walnut, Piano Black, and exclusive Midnight Cherry finishes.
Purposefully Beautiful and Intentionally Functional
The faceted design of XR's cabinet is not only purposefully beautiful but intentionally functional. The geometric profile elegantly distributes the massive load of housing the powerful woofer inside, providing greater strength and rigidity than traditional rectangular designs. The custom 2" thick MDF front baffle adds further rigidity to the cabinet and acts as the backbone necessary to withstand the brutal forces of the massive woofer and magnet within.
Cascade-Fusion Bracing
Cascade-Fusion bracing further increases cabinet rigidity for maximum acoustic precision while also breaking up standing waves internally, which provides more accuracy and greater bass clarity.
Did you know?
During early development, the XR woofers were able to split the test cabinets at the seams from their brute force! Cascade-Fusion bracing was the logical solution, adding strength and beauty to this legendary bass recipe.
Where Form & Function Are One
XR expertly blends form and function to combine every element acting as reinforced bracing to create a beautiful yet robust enclosure free of performance-robbing vibrations.
FEA Optimized & Purpose Built
Even the amplifier has been designed with form and function in mind. Its FEA-optimized and purpose-built design ensures no structural integrity is lost. In contrast, its finned design acts as an efficient heat sink to effortlessly transfer heat from the massive power amplifier providing effective cooling for years of worry-free operation and stable performance.
XR Design

Philosophy
XR is not only about maximizing output but minimizing distortion too. This one-two-punch design philosophy is bolstered by the inclusion of exclusive Paradigm technologies not found elsewhere.


XR turns up the bass by turning down the noise!
Advanced Shock-Mount Technology

Paradigm's exclusive Advanced Shock-Mount enabled outriggers are designed with multi-layered durometer rubber-metal matrices to provide industry-leading isolation whose benefits can be measured and heard in the real world.

Not only does this give a more accurate sound while elevating low-frequency performance, but it is also a neighbour-friendly technology.

By isolating the massive forces generated by the Ultra Long Throw Trilinear Suspension woofer, we prevent that energy from being transferred to your floor. This drastically reduces distracting bass-induced rattles and vibrations around the room and helps avoid noise complaints from adjoining spaces and neighbours.
It doesn't get much better
than this
To put it simply, XR woofers are the most powerful speaker drivers that Paradigm has ever created. With output capability so high that some of our test cabinets were literally busted open from the massive forces generated inside. While incredibly powerful and capable of extreme output, power without control is meaningless. To that end, the XR's woofer is also a super low distortion design, significantly outclassing its intended competitors in not only distortion but maximum output, especially for a subwoofer this compact and beautiful.
Dual Motor Ultra Long Throw Trilinear Suspension
Furthering the state of the art in woofer design, the XR's Ultra Long Throw Trilinear Suspension is grounded by a dual-spider centring system to ensure the massive woofer maintains a clean, linear motion while pushing the envelope of its excursion limits. XR uses split-coil construction with oppositely wound turns on each coil, effectively eliminating motor non-linearity. High-temperature wire (adhesives rated to 450° F/232°C) ensure long-term reliability and very high power handling. Ventilated Apical™ formers contribute to increased stiffness.
Did you know?
Over three years in the making, this exotic design took thousands of engineering hours to develop and refine. Paradigm's founder, Scott Bagby, oversaw this monster woofer's development to guarantee nothing was left on the table.
Maximum Performance,
Minimal Footprint
It's easy to get powerful bass with a massive cabinet, but it takes a lot of science and engineering to reach this level of performance from such a practical size.

So to further improve the XR's performance-to-size ratio, Paradigm engineers used a Vertical Mounting System to fit more woofer into the same space, maximizing the performance possible while keeping the footprint of the subwoofer in check.

Combine this with Paradigm's exclusive Active Ridge Technology, which maximizes woofer travel, and you have a winning recipe for clean, articulate, and powerful bass perfect for any class of music or home theater system.
Power Without Control is Meaningless
Up to 2.2kW of Powerful and Clean Output
No subwoofer is complete without the right amplifier, and for XR subwoofers we complimented the package with massively powerful and clean 1.1kW or 2.2kW amplifiers. With colossal power reserves and the massive output capability of its Ultra Long Throw Trilinear Suspension-enabled woofer, the XR subwoofers achieve effortless sound during even the most demanding musical passages or movie soundtracks.
Thermal Management
Beyond providing the brains of the operation, the amplifier design also provides efficient passive cooling for the massive power output, ensuring years of worry-free operation.
Remote Adjustability and Control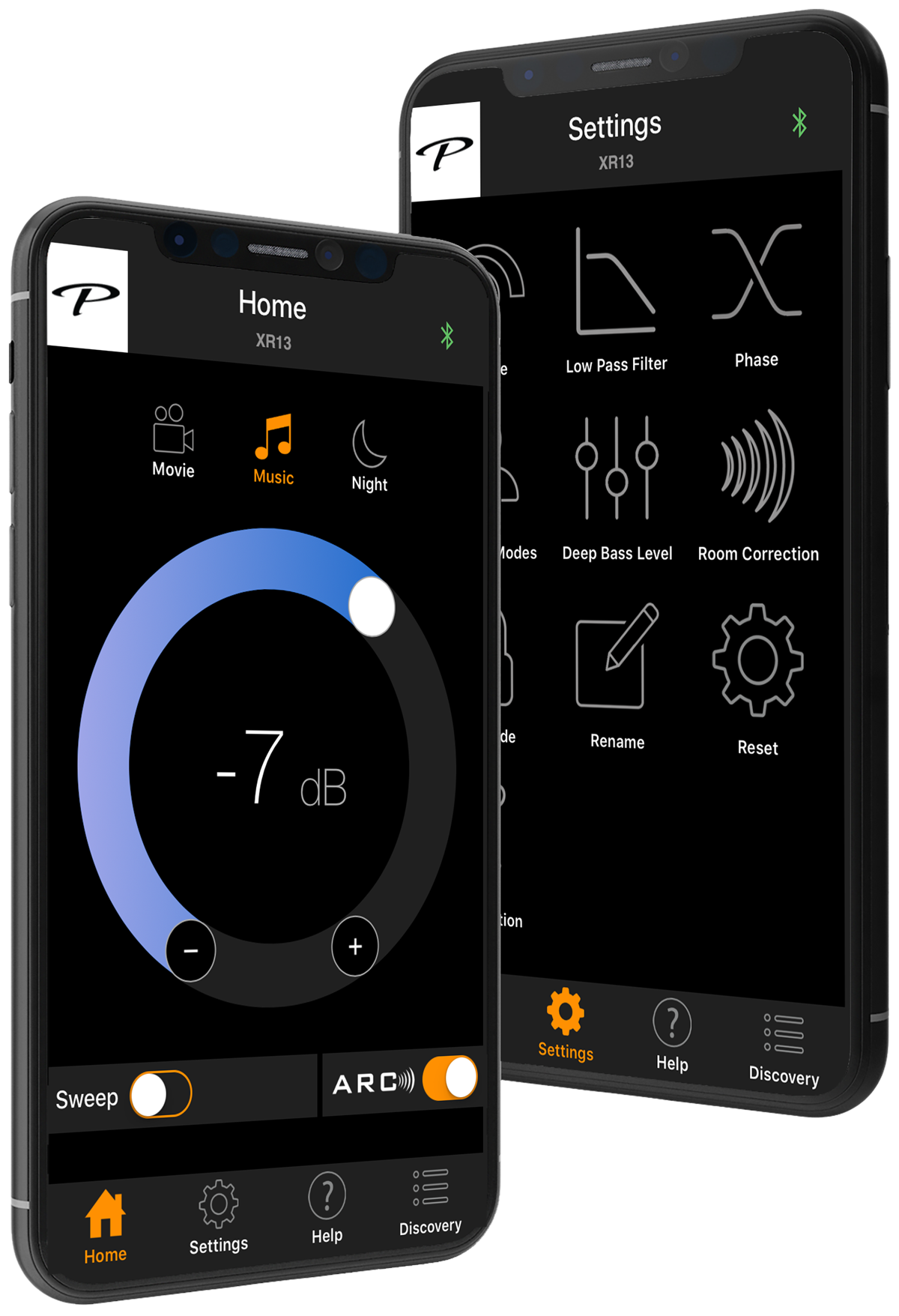 Power without Control is meaningless, so to control and tune XR's performance, we added our simple and powerful mobile Control App.

Subwoofers have traditionally been a "set it and forget it" style product for most owners, especially since making adjustments on the fly typically meant getting up and walking over to the sub to turn a knob, hardly the most convenient option in today's world.

Our Control App provides quick and easy access to all of XR's settings and sound adjustments, including volume, phase, low pass filter, DSP mode and more, all from the comfort of your seat. This also means you can hear the effects of your adjustments directly from your listening position in real-time, making tuning more accurate and quicker than ever before.
We also added a capacitive touchscreen volume control to the XR's amplifier to
DSP (Listening Modes)
XR Subwoofers allow a choice between 3 different DSP or Listening modes: Movie, Music and Night
Volume Control
The volume of the XR subwoofer can be adjusted through the control app or the touch screen control on the subwoofer itself.
Sweep
The Sweep toggle initiates a self generated tone sweep from the subwoofer. This can be used for fine tuning or positioning of the subwoofer as well as being useful in locating buzzes and rattles.
Low Pass Filter
This setting adjusts the built in Low Pass Filter, which gradually reduces the subwoofer output above a certain frequency. This is especially important to help blend a subwoofer properly into a system.
Phase
Phase adjusts the delay applied to the incoming signal being fed to the subwoofer. Adjusting this properly so that the main speakers and subwoofer are "in sync" as closely as possible.
Room Correction
This allows you to toggle ARC Genesis on or off once the correction has been uploaded to the subwoofer. This allows for easy A/B comparison to hear just how much ARC Genesis can improve the bass performance.
The Power To Engineer Your Listening Space
One variable that speaker designers can't account for is the listening room in which the products are being used.

The room dimensions, construction materials, furniture, accessories and even the placement of the speakers within the room can make a massive difference in performance.
By taking accurate, real-time measurements of your room, the software listens to how the subwoofer performs in your unique setup and compares this to the ideal performance for your specific space.

After the complex calculations have been completed, a correction curve is uploaded to the subwoofer to smooth out irregularities and imperfections caused by your room's specific sonic signature, leaving only the most ideal performance for your unique circumstances.

Competing systems often result in much lower bass output than before running the system. These solutions typically can only bring down peaks in output to smooth out the frequency response, meaning that you lose bass energy to get more accurate results. With ARC Genesis, not only can we tame those peaks, but we can also elevate the low points meaning that you don't lose output. You only gain precision, accuracy and fidelity.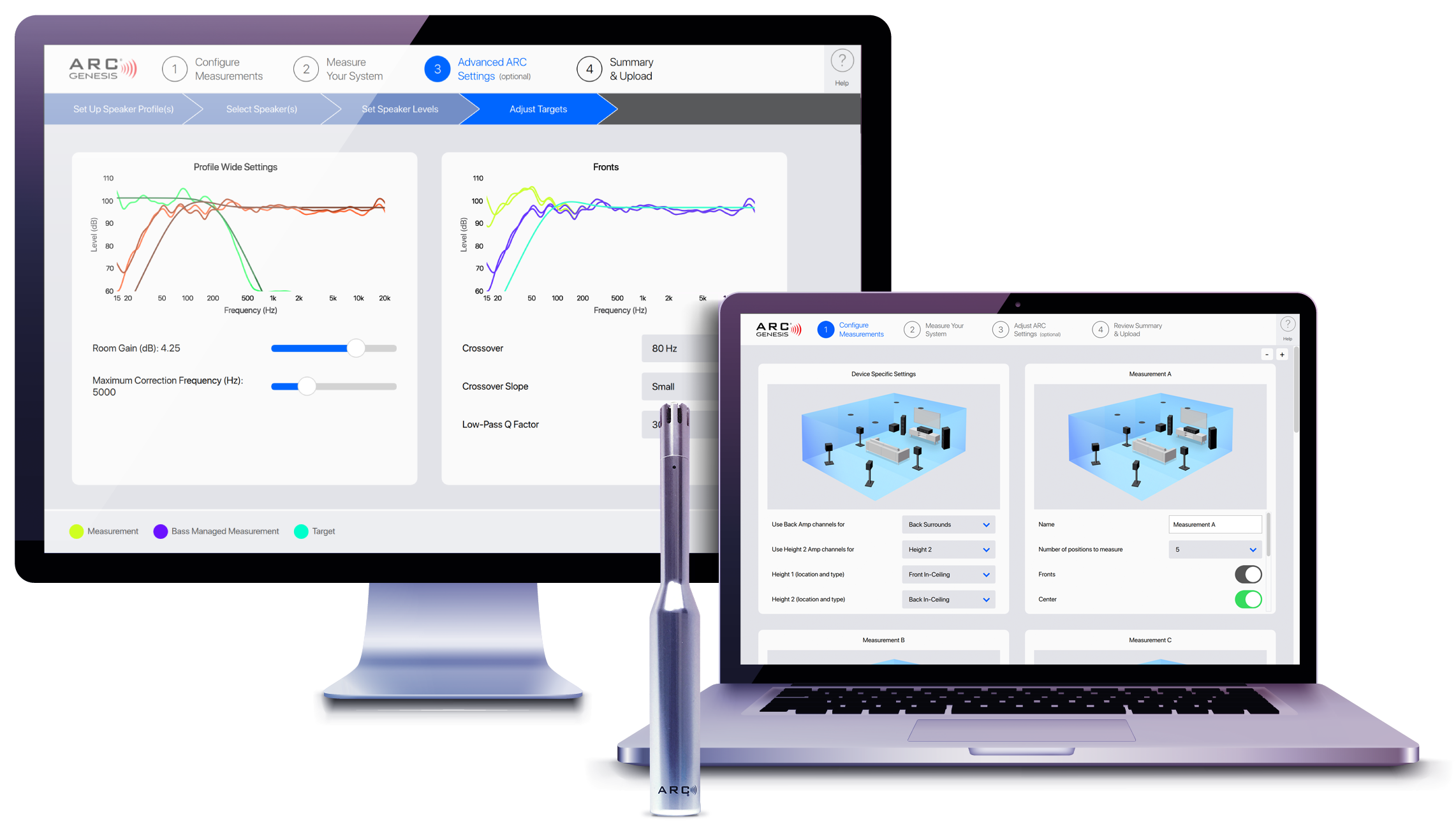 Overview
11" (279 mm) Ultra-high Excursion Driver with Trilinear Suspension System and Active Ridge Technology (ART™), sealed enclosure with Cascade-Fusion™ Bracing and ADVANCED Shock-Mount™, built-in 1,100W RMS (2,200W Dynamic Peak) Class-D amplifier, App-controlled via smartphone and Anthem Room Correction (ARC®) Included
Specifications

PARADIGM XR SERIES 11" SUBWOOFER

Type
HOME AUDIO

SPECIFICATIONS

DESIGN
11" (279 mm) Ultra-high Excursion Driver with Trilinear Suspension System and Active Ridge Technology (ART™), sealed enclosure with Cascade-Fusion™ Bracing and ADVANCED Shock-Mount™, built-in 1,100W RMS (2,200W Dynamic Peak) Class-D amplifier, App-controlled via smartphone and Anthem Room Correction (ARC®) Included
AMPLIFIER FEATURES
Auto-On/Off , Trigger On/Off
FREQUENCY RESPONSE ON-AXIS
±3dB from 20 Hz to 140 Hz
ROOM CORRECTION
ARC Genesis (microphone included)
LOW FREQUENCY DRIVER
11"(279mm) Ultra High-Excursion CARBON-X Unibody Bass Driver, with Trilinear Suspension System and Active Ridge Technology (ART™), 1.5" High-Temperature voice coil
EFFECTIVE PISTOL AREA (SD)
66 sq in / 0.043 sq m
EFFECTIVE DIPLACEMENT
183.1 cuin/3L
LOW FREQUENCY RESPONSE
14 Hz (DIN)
AMPLIFIER POWER
1,100W RMS (2,200W Dynamic Peak) Class-D amplifier, App-controlled via smartphone and Anthem Room Correction (ARC®) Included
UNBALANCED INPUTS
Stereo or Mono (dual RCA jacks)/LFE RCA jack
BALACED INPUTS
One Balanced XLR (LFE)
SPEAKER/HIGH-LEVEL INPUTS
Left and right speaker level inputs
INPUT GROUNDING
Isolated
POLARITY
0 or 180 degress
PHASE
Variable 0°-180°
DIMENSIONS HXWXD
16.2" x 15.3" x 16.9" (41.2cm x 38.8cm x 42.9cm)
WEIGHTM
65.1 lb / 29 kg each
FINISHES
Gloss: Piano Black & Midnight Cherry Satin: Walnut & Black Walnut
Contact us for more information
Payment & Security
Your payment information is processed securely. We do not store credit card details nor have access to your credit card information.