---
Shipping and delivery available
Select options at checkout
This high-performance, vibration-damped receiver offers fantastic A/V processing, robust amplification, and exceptional room calibration. It's also simple to operate, thanks to Yamaha's superb control app for your phone or tablet. 
Yamaha RX-A8A
Yamaha's The A8A delivers realistic sound and video that transports you out of your home and into your favorite movie. Whether you're watching, listening, or gaming, you'll feel completely immersed.
Breathtaking Sound
Surround: AI™
AI technology built into the DSP analyses the scene of the entertainment content and then creates the optimal surround effect to reproduce it with the ultimate impact. This AI instantaneously analyses scenes by focusing on distinct sound elements such as dialogue, background music, ambient sounds and sound effects, and automatically optimizes the surround effect in real time. Imagine having a Yamaha sound engineer right there whilst your listening, tuning the best sound live and specifically for you. AI technology creates a compelling sense of realism with expressive power beyond conventional sound field effects, giving you the most profound entertainment experience possible. Qualcomm® QCS407 with 64-bit high precision processing delivers precise surround sound.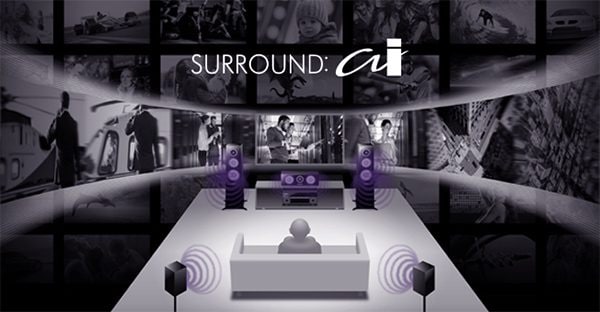 Cinema DSP HD3 for Movie, Music and Game
Yamaha's flagship 3D sound field playback technology was created by combining actually measured sound field data with cutting edge digital signal processing technology. The revamped CINEMA DSP HD3 features new signal processing algorithms and maximises theatre sound effects, accurately reproducing a new dimension of realism for a sound field with a rich sense of presence and no feeling of boundaries. By using front, centre and surround speakers to create a rear virtual speaker, CINEMA DSP HD3 playback up to 11.1 channels is possible* even with a 7.1-channel speaker configuration.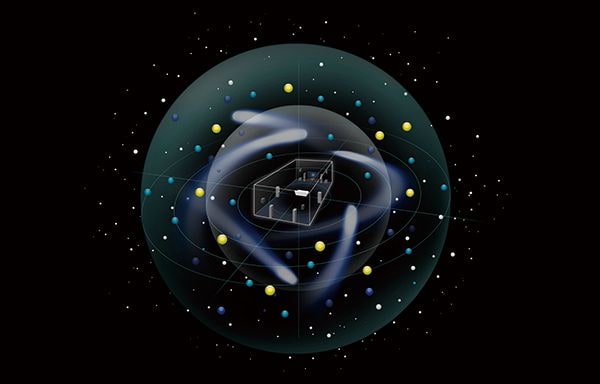 *Requires connection to a front presence speaker.
Dolby Atmos® with Height Virtualizer
For those without in-ceiling or upward firing speakers in their system, Dolby Atmos with Height Virtualization Technology simulates the Atmos experience with forward facing-drivers. Configure up to five speakers to replicate the effect of two in-ceiling speakers, or utilize all seven channels to simulate the powerful effect of four overhead speakers.
Feel every dimension in Dolby Atmos. Enjoy a 5.1 surround speaker system and two additional overhead speakers or two Dolby Atmos elevation speakers, delivering dramatic overhead effects for truly enveloping audio – including Dolby Surround upmixer for legacy content.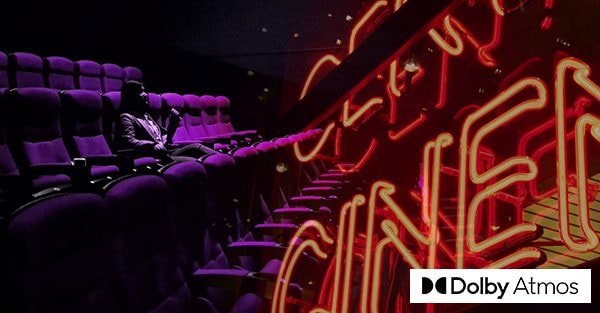 DTS:X®
DTS:X immersive audio formatting places sound where it would naturally occur in space, creating life-like, multi-dimensional audio. The included spatial remapping engine of DTS Neural:X™ offers improved immersion and heightened realism in all your favorite movies.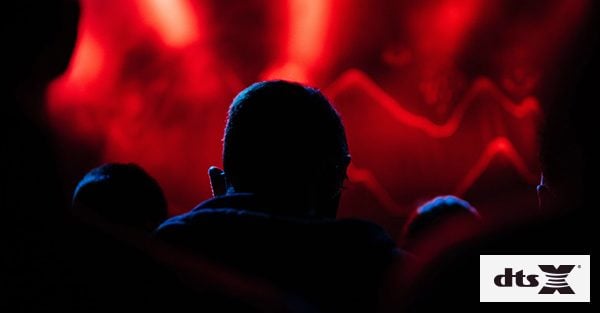 Compressed Music Enhancer
When music is encoded into a digitally compressed format like MP3, the frequency response suffers. Yamaha's Compressed Music Enhancer employs sophisticated digital signal processing using exclusive algorithms to restore what was lost, so the music always sounds the way it should.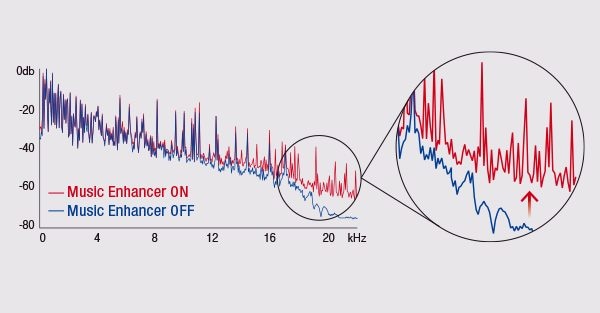 High Quality Parts
Advantage of High Slew Rate Amplifier
New circuit achieves more than doubled slew rate and it would contribute a precise signal transmission, effective for high resolution audio signal. Generally high slew rate amplifier causes unstable signal transmission, Yamaha's newly designed circuit achieves high slew rate with stable signal transmission.
High-Quality Digital Components
Qualcomm® QCS407 is designed to provide truly superior audio performance, with support for Dolby Atmos and DTS:X immersive home audio, as well as a dedicated high-performance audio DSP.
Features ESS's state of the art 32-bit SABRE PRO Premier DAC ES9026PRO. ESS's patented 32-bit Hyper Stream, Total Harmonic Distortion (THD) compensation function works to minimize noise levels. In combination with the Yamaha original D.O.P.G. (DAC On Pure Ground) concept, which eliminates the potential difference between audio circuit stages to reduce ground noise, it dramatically enhances silence and resolution over the entire audio range for rich and expressive reproduction of even the most delicate sounds.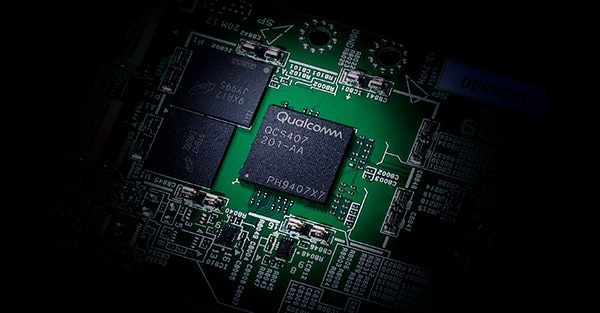 Craftmanship
Anti Resonance Technology Wedge
The newly designed Anti Resonance Technology (A.R.T.) Wedge is a fifth foot in the front-and-center of the chassis unit base. Together with double bottom structure, it dampens much more vibrations from the power transformer, power transistors and heat sinks, as well as vibrations that might be caused by the sound from the speakers — providing dynamic sound and focused, accurate reproduction. A8A's fifth foot has special brass parts inside which continue to provide further detailed and richer sound reproduction.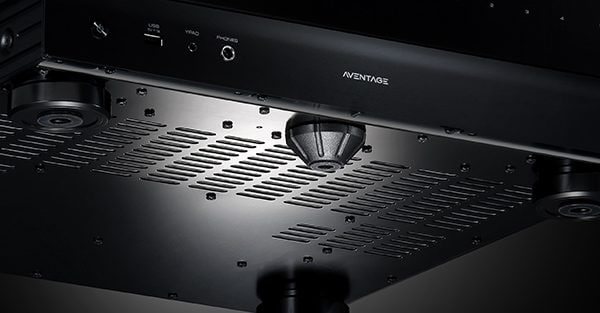 Newly Designed Mechanical Structure
The highly logical and symmetrical internal layout of parts and totally renewed circuit boards are designed to keep the signal paths on each board as short as possible. The new H-cross frame improves rigidity of the receiver body and sound stability, allowing for a more clear, sharp and transparent reproduction. Also the newly redesigned mechanical structure contributes to avoiding the transition of vibration from the transformer to the amplifier circuit. Sound noises are reduced to improve clarity.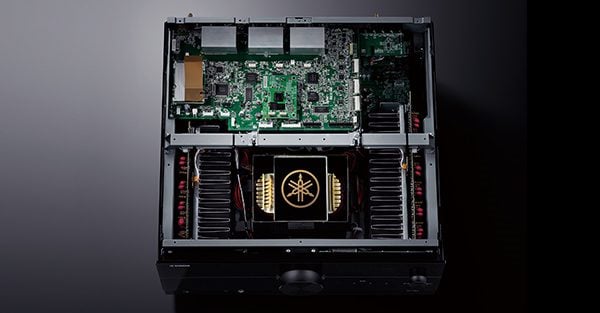 Movies and Games Like Never Before
HDR10+
HDR10+ signals not only dynamic range (the ratio of light to dark) of video content on a scene-by-scene (or even frame-by-frame) basis, it also provides, in a small amount of metadata, the scene characteristics between bright and dark so that important detail can remain. This enables displays to reproduce images more realistically, adhering to the creator's intent.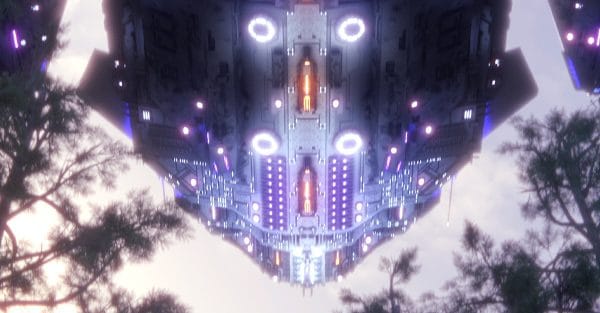 8K/60Hz, 4k/120Hz
Supports end-to-end 8K/4K resolutions and higher refresh rate solutions with a single upgraded cable for seamless integration within the HDMI eco-system.8K delivers a super-immersive viewing experience with 2x the horizontal and vertical resolution of 4K, and 4 times as many pixels; and combined with 60Hz refresh rate enables smooth and sharp viewing of content with high-speed action. 4K/120Hz enables ultra-fast motion UHD images to be crisp and razor sharp; allowing sports, action movies, high-performance gaming and VR to benefit significantly.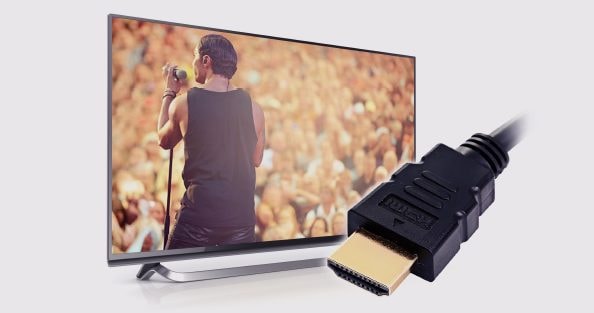 Gaming-dedicated Function(ALLM,VRR,QMS,QFT)
Enhanced gaming and media features ensure an added level of smooth and seamless motion and transitions for gaming, movies and video. They include: Auto Low Latency Mode (ALLM) enables the ideal latency setting to automatically be applied, allowing for smooth, lag-free and uninterrupted viewing and interactivity. Variable Refresh Rate (VRR) reduces or eliminates lag, stutter and frame tearing for more fluid and detailed gameplay. Quick Media Switching (QMS) for movies and video eliminates the delay that can result in blank frames before content is displayed. Quick Frame Transport (QFT) reduces latency for smoother no-lag gaming, and real-time interactive virtual reality.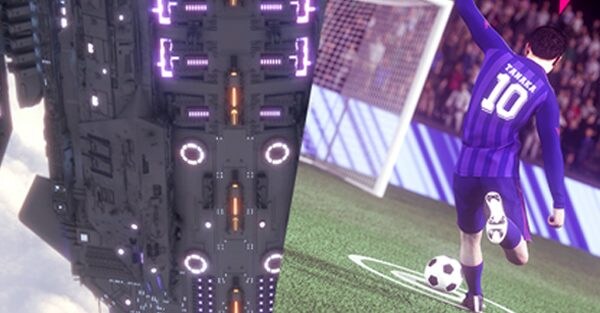 For of the Movies and Games Features this function is available via FW update.
Designed For Your Space
YPAO™ - R.S.C. (with 3D, Multi-Point Measurement and 64-bit High Precision EQ)
YPAO-R.S.C. (Reflected Sound Control) analyses the room acoustics with the included YPAO microphone to tune your system for the best sound in your unique room. It employs R.S.C. to correct early reflections for studio-quality surround sound. YPAO 3D provides automatic sound parameter optimisation that maximises the 3D sound field effectiveness of SURROUND:AI as well as Dolby Atmos and DTS:X. 64-bit high precision EQ calculation achieves the most natural room acoustics possible.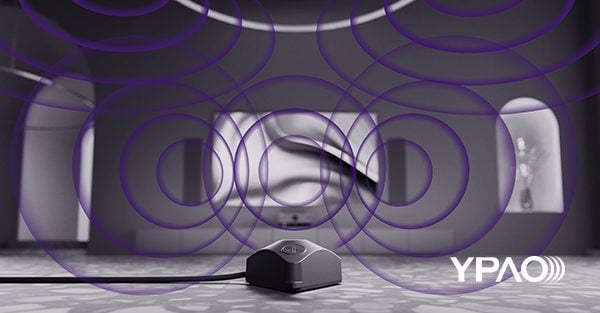 Compatible with Wireless Rear Speaker
Combine this AV receiver with the MusicCast 50 or MusicCast 20 wireless streaming speaker and enjoy the amazing convenience of creating a home theatre with wireless surround sound. What's more, you get stunningly realistic sound with a clean, clutter-free setup. Easily turn your current living room into a special entertainment environment where you can fully enjoy movies and music.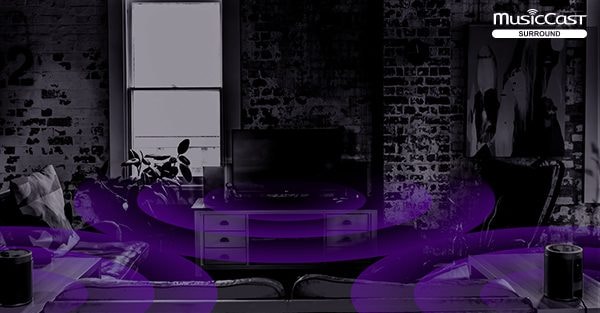 Dynamic and Compelling Design
Yamaha's detail in design and craftmanship produces a work of visual and acoustic art.
The immaculate chassis construction further solidifies the alignment of stability in performance.
A beautiful form that deepens the AVENTAGE uniqueness and continues to further enhance key acoustic authority.
Utilizing faithful reflections of tradition and incorporating fresh new design principles, the new look AVENTAGE exhibits engineering at its most innovative awe-inspiring best.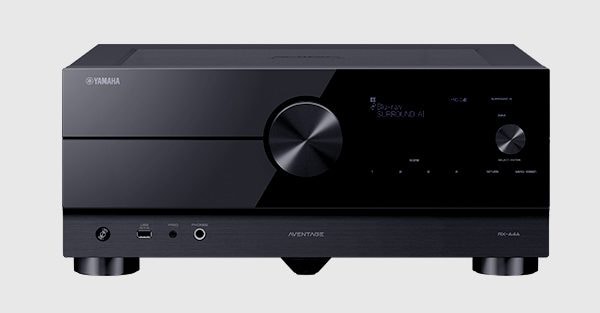 SCENE Buttons with the Ability to Preset Songs and Stations
There are four SCENE buttons. You can preset them for different inputs, as well as a sound field program, Music Enhancer, HDMI output and more. The inputs can be set to specific sources, such as an FM or Internet radio station, a station on a streaming service, a USB device or a song on a PC or NAS (network). Once you have set the buttons, simply press one on the main unit or the remote control to power on the receiver and hear your desired music. The buttons can be re-set at any time.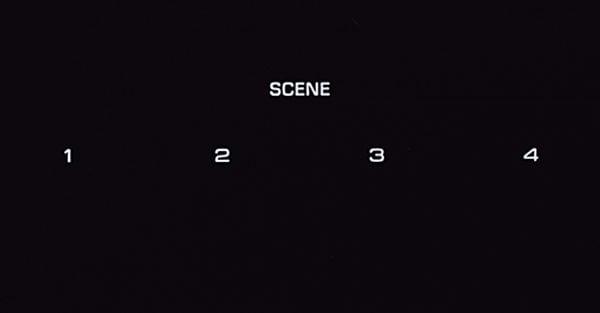 Simple to Set up, Simple to Use
Easy Operation by MusicCast App
Use your smartphone or tablet together with the MusicCast CONTROLLER app to operate the AVR and change settings quickly and easily. The same Controller app functions as a remote control for all your MusicCast-compatible devices as well as full multi-room audio controls.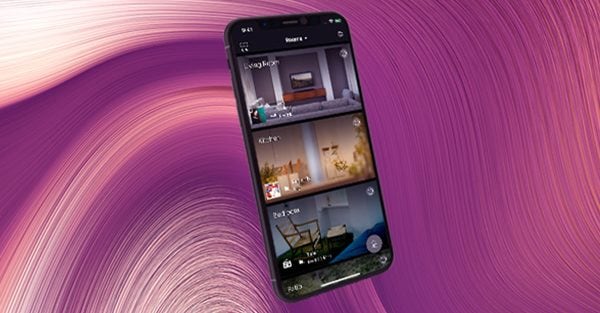 Voice Control
Touch or voice control – the choice is yours. Intuitively control a single MusicCast product or an entire whole-of-home system with ease using Alexa or Google Assistant and hear your home come alive.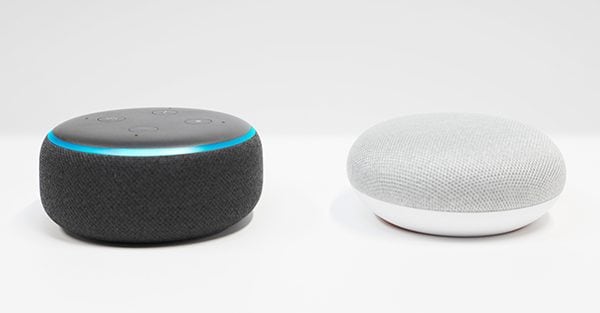 *Availability of voice command control via Amazon Alexa and Google Assistant varies by region
*A third party device is required to initiate voice commands.
AV Setup Guide App for Initial Setup
No worries, no confusion. Use this special app to receive expert set up assistance for your AV receiver and source devices. It even guides you through various other settings such as speaker connections, TV and source device connections and power amplifier assignments.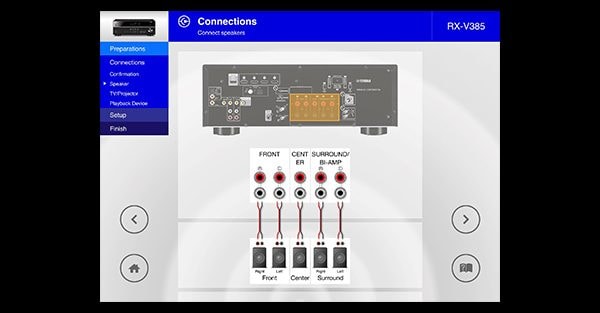 Other Features
Multi-room Audio - MusicCast
Imagine sharing all the music you love throughout the home – no matter the format. From your favorite vinyl to AirPlay®, Bluetooth® to music streaming services and even sound from your TV, MusicCast has it covered.
Additionally, all MusicCast products are designed with sound quality at the front of mind. High-res formats including Apple Lossless (ALAC) up to 96 kHz, WAV, FLAC and FLAC or AIFF up to 192 kHz are supported.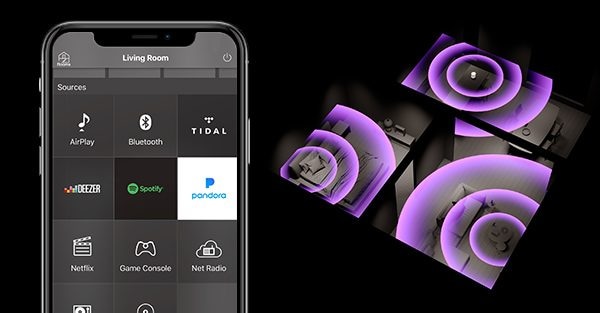 *Music streaming service availability varies by region.
AirPlay 2
Hey Siri. Play music in the kitchen and living room.
AirPlay 2 adds the ability to stream Apple Music and other streaming services to multiple MusicCast devices throughout your home. Easily control it from your iPhone or iPad, link it with a HomePod, or simply utilize voice control and ask Siri fto assist.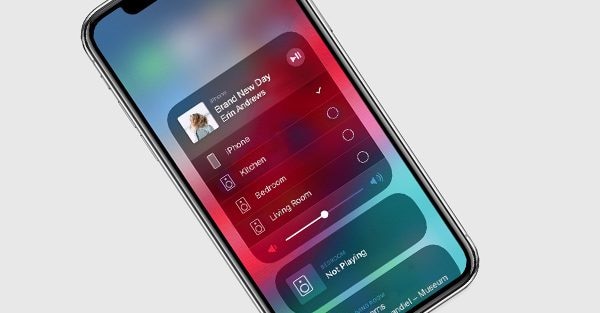 Steaming Service
Explore a world of music with music streaming services built-in. Synchronizing your playlists and tracks from your smart phone or computer to the AV receiver, music streaming services make it impossibly easy to either listen to your favorites or discover new music.
*Music streaming service availability varies by region.
eARC
Unlock the full potential of your 4K content. Enhanced Audio Return Channel (also known as eARC) is the next generation of ARC – available in the industry-leading AV receivers from Yamaha.
eARC delivers full-resolution, multi-channel audio formats such as Dolby® TrueHD and DTS-HD® through your existing HDMI connection, giving you the most realistic surround sound experience for immersing yourself in your favorite movies and moments.
Zone2 including HDMI
Featuring Zone2 compatible speaker terminals, this system can send the same (or even different) AV contents playing in the main room for playing in another room. For example, if you've got speakers installed in your bedroom or kitchen, you can go to that other room and enjoy listening to the same or different main room content.
Phono
This AV receiver provides dedicated phono input terminals, letting you connect a turntable and enjoy music from your vinyl collection.
Amplifier Section
| | |
| --- | --- |
| Channel | 11.2 |
| Rated Output Power (1kHz, 1ch driven) | 185 W (8 ohms, 0.9% THD) |
| Rated Output Power (20Hz-20kHz, 2ch driven) | 150 W (8 ohms, 0.06% THD) |
| Maximum Effective Output Power (1kHz, 1ch driven) | 220 W (8 ohms, 10% THD) |
| High Slew Rate Amplifier | Yes |
Surround Sound Processing
Surround: AI
Yes
Cinema DSP
Yes (HD3)
DSP Programs
24
Dialog Level Adjustment
Yes
Virtual Presense Speaker
Yes
Virtual Surround Back Speaker
Yes
Dialogue Lift
Yes
Silent Cinema
/ Virtual Cinema
Yes
Dolby Atmos
Yes
Dolby Atmos Height Virtualizer
Yes
Dolby TrueHD
Yes
Dolby Digital Plus
Yes
Dolby Surround
Yes
DTS:X
Yes
DTS-HD Master Audio
Yes
Auro 3D
Yes (via firmware update)
Audio Features
Pure Direct
Yes
Compressed Music Enhancer
Yes
High-resolution Music Enhancer
Yes
YPAO Multi-Point Measurement
Yes with R.S.C. (Reflected Sound Control)
3D
64-bit High Precision EQ Calculation
Angle Measurement
YPAO Volume
Yes
Initial Volume & Maximum Volume Setting
Yes
A.R.T. Wedge
Yes
Bi-amp capability
Yes
Audio Delay
Yes (0-500 ms)
DA Converter
384 kHz / 32-bit ESS Hyperstream DAC ES9026PRO x2
Video Features
| | |
| --- | --- |
| HDMI eARC | Yes |
| HDMI Audio Return Channel | Yes |
| HDMI Pass-Through | 8K60AB, 4K120AB (via future update) |
| HDMI Up-Scaling | Yes up to 8K (via firmware update) |
| HDMI Up-Conversion | Yes (Analog to HDMI) |
| Dolby Vision | Yes |
| HDR10+ | Yes (via firmware update) |
| VRR/ALLM/QMS/QFT | Yes (via firmware update) |
| Video Adjustment | Yes |
Connectivity
| | |
| --- | --- |
| MusicCast Surround | Yes |
| AirPlay 2 | Yes |
| XLR Terminal | No |
Extensive Connection
| | |
| --- | --- |
| HDMI Input/Output | 7 / 3 (HDMI2.1 / HDCP2.3) |
| HDMI CEC | Yes |
| USB Input | Yes |
| Network Port | Yes |
| Wi-Fi | Yes (2.4 / 5 GHz) |
| Bluetooth | Yes (SBC / AAC) |
| Front AV Input | USB |
| Digital Audio Input/Output: Optical | 3 / 0 |
| Digital Audio Input/Output: Coaxial | 2 / 0 |
| Analog Audio Input/Output | 6 / 0 |
| Phono Input | Yes |
| Component Video Input/Output | 1 / 0 |
| Composite Video Input/Output | 2 / 0 |
| Preout | 11.2-ch |
| Headphone Output | 1 |
Tuner Section
| | |
| --- | --- |
| FM/AM Tuner | Yes (Availability varies by region.) |
| DAB Tuner | Yes (Availability varies by region.) |
User Interface
| | |
| --- | --- |
| On-Screen display | Graphical User Interface |
| SCENE | SCENE PLUS (8 sets) |
| App Control | Yes (iPhone / iPad / Android Phone / Tablet) |
| Web Browser Control | Yes |
| Remote Control Unit | Yes |
Zone Control
| | |
| --- | --- |
| Zone 2 Audio Output | Preout / HDMI |
| Zone 3 Audio Output | Preout |
| Zone 4 Audio Output | HDMI |
| Powered Zone | Zone 2 / 3 |
| Zone Video Output | HDMI |
| Zone B Output | HDMI |
| Zone GUI | Yes |
| RS-232C Interface | No |
| +12V Trigger Output | 2 |
| Remote (IR) Input/Output | 1 / 1 |
| Party Mode | Yes |
General
| | |
| --- | --- |
| Standby Power Consumption (IR only) | <0.4 W |
| Auto Power Standby | Yes |
| ECO mode | Yes |
Dimensions (W x H x D) and Weight
Weight (Varies by region)
47.2 lbs
21.4 kg
With Antenna Down
435 x 192 x 442 mm
17.13 x 7.6 x 18-3/4" in
Payment & Security
Your payment information is processed securely. We do not store credit card details nor have access to your credit card information.